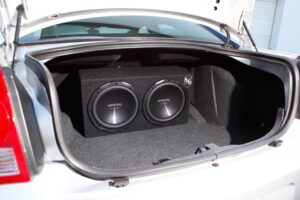 Subwoofers are speakers dedicated solely to reproducing low frequencies. No matter what kind of music you like, or how softly or loudly you like to listen, a quality sub can really improve your overall listening experience. So, why not upgrade to a Perfect Soundz subwoofer?
Car speakers are small, so they have trouble producing enough low-frequency sound to give your music realism and depth. A subwoofer can make the difference between a good-sounding and a great-sounding system.
There are several ways to add a subwoofer to your vehicle. Which one is right for you depends on a lot of different factors, including your musical tastes, budget, and how much space you have available in your vehicle.
At Perfect Soundz, we can sell and install your new subwoofer.
Have an idea for a subwoofer enclosure (which is required)?  Let us know!  We can build it for you.
Contact us today to get started!
If you want a system that really booms, there's no substitute for plenty of power. Pay attention to RMS power ratings, not peak power ratings. RMS ratings measure continuous power handling or output and are a much more realistic measure than peak power. Make sure the sub can at least handle your amp's output power.
You need an enclosure at the time of installation.  The type of enclosure a sub is mounted in will have a big effect on the type of sound it produces. In general, sealed boxes give you the deepest, most accurate sound, while ported and bandpass enclosures produce more volume