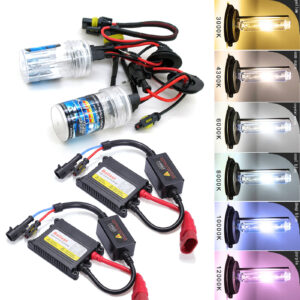 High intensity discharge (HID) headlights, also known as xenon lights grew in popularity during the late 90s thanks to their unique style and color as well as their increased brightness. In the last decade we've seen a major increase in the availability of aftermarket HID headlight kits, and a Perfect Soundz HID headlight upgrade is waiting for you!
Traditional automotive bulbs are either made of tungsten or halogen, both of which rely on a superheated filament for illumination. On the other hand, the bluish tint you see on HID-equipped vehicles is from a lighting technology that uses no filament whatsoever.
Now, with the flick of the headlight switch, the xenon gas turns into white-hot plasma light in seconds. A single HID bulb is so bright that it can handle the job of two incandescent filaments.
Bright light with low voltage
Once illuminated, HID light output is three times that of halogen, and as an added benefit, the ignited gas uses very low voltage, reducing the load on the alternator. The light, now at a "hotter" color temperature than halogen, appears nearly white. The powerful white light makes distant street reflectors and signs highly visible to the driver.
Installation
HID kits are plug 'n play, meaning anyone can upgrade their headlights in as little as 30 minutes.  However, if you are not comfortable completing the upgrade, please contact Perfect Soundz to schedule your appointment.
Depending on the number of switches and where you want them mounted, sure.  Best thing is to call or bring in the vehicle to discuss your project.
Most likely yes, but it depends how many lights you want to install and where.  Best bet again is to call or bring in your vehicle for a quote.