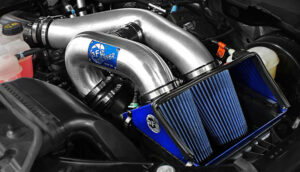 When upgrading your stock air intake system to a performance cold air intake system, there's no ambiguity—you're guaranteed increased horsepower and torque.
A low-restriction filter and custom-engineered tubing system combine to provide a higher volume of air to your engine—up to 50% more airflow than a stock system with a typical disposable paper air filter. More airflow to the throttle body translates into more power to the drivetrain.
A Perfect Soundz cold air intake is your best bet!  They have installed thousands of cold air intakes in a variety of vehicles for increased speed (and sometimes sound).
Contact us today for a FREE quote!
It does!  The cheaper the kit, the cheaper the parts.  Could you dish out a couple hundred for a quality air intake system?  Yes.  But, at least you'll have peace of mind the kit won't degrade or break down.
It depends on your vehicle, the type of kit ordered, and proper installation.  We suggest calling and getting more info.